Chairman: Mrs Jillie Rogers BHSI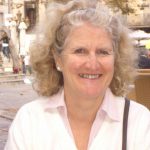 I passed the BHSI exam in 1975 and then realised just how much I had to learn. From 1987 to 2005 I owned Rooting Street Farm Riding Centre in Kent. In 2004, prior to selling the riding school and moving to Ireland in 2005, I took a sabbatical and travelled on my own around the world for 6 months, meeting with like minds and teaching in Canada, America, Australia, New Zealand and finally to Hong Kong to the Hong Kong Jockey Club. Since 2009 I have made several trips to Singapore to coach at the Singapore Polo Club and the Bukit Timah Saddle Club. So from rainy Ireland to hot & humid Singapore.
I now freelance coach helping competition riders and BHS & Pony Club candidates in both Ireland and the UK. I am a Chief Assessor for the BHS including the Equestrian Tourism qualifications. As a trainer and assessor for the Riding & Road Safety tests I do my bit for the riding public of Ireland as there are no bridle paths or toll routes in the Republic. From 2008 – 2013 I worked as an Advisor for the Association of Irish Riding Establishments (AIRE) which involves inspecting riding schools and trekking centres in the Republic – much like a BHS Approvals Officer. I met some wonderful people in the depths of rural Ireland & been fortunate enough to visit some extremely good centres. As a BHS Assessor I am a Level 2 & 3 coaching portfolio assessor. I am an External Verifier for the BHS Work Based Diplomas, a BHS Examinations Moderator and a List 3 dressage judge.
The ethos of the F&I Association is to provide a platform for this elite group of Coaches. I am fortunate to have an extremely hard working committee who are dedicated to excellence.
---
Vice Chairman: Ann Bostock BHSI
I've had my BHSI for 24 years and now on my 10th year on the F and I committee. I freelance, judge dressage (List 2a) FEI ground jury to 3 & 4* eventing. Assess to BHSI level. Compete dressage and train point to pointers at home.  Organise the Annual course and Badminton and Burghley course walks.
---
Treasurer and Membership Secretary: Debbie Follett BHSI
I passed my BHSI in 2003 and have been Director of Riding at Bryanston School for the last 19 years.
I previously worked for 6 years in Hong Kong where I initially worked at Beas River Country club re-training  ex racehorses and teaching ex pats and Chinese on their livery horses.
At Beas River I worked alongside  Danny Anholt where we set up a  BHS training schedule for the first Chinese riders,  enabling them to attain BHS qualifications with the aim for these students to be our successors.
I then moved into managing the three public riding schools,  promoted riding to the Chinese and hosting many FEI jumping events.
I've recently started my Venture on becoming a BHS Assessor which I'm very excited about and am now undertaking my first year as the F & I Treasurer and Membership Secretary
Debbie Follett BHSI
---
Secretary: Dianne Roberts BHSI, UKCC3, APC, MSET, QTLS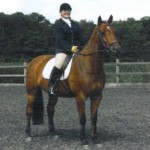 I passed my BHSI in 2007 and worked at Moreton Morrell, as a lecturer and tutor in equine studies and Course Manager for the BTEC Level 3 Courses for the past 15 years which involved training students of all abilities – from Levels 1 to 3 as part of their academic courses and assisting students to achieve BHS exams from Stage 1 to 4 and their teaching qualifications which I enjoyed very much.
I am currently working freelance and enjoy teaching and training at all levels, all ages and all abilities.
This will be my sixth year as secretary for the F & I Association.
The goals for this year are to compete more.
---
Alison Craig BHSI, UKCC3, BCom, CA, CMC, FIC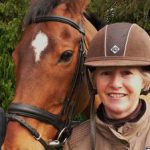 Independent freelance coach for 40 years.  I evented in my teens, rode for the universities teams, then specialised in dressage.  I am a BD Accredited Coach and Judge, BYRDS Assessor/Rider Test Judge, and coach local Pony Clubs and Riding Clubs.  I am also working with an up-and-coming Surrey girls day/boarding school developing their equestrian centre.  Unusually I also have a business background, having a BCom Degree from the University of Edinburgh in the late 70s – during which I also competed, taught, captained Scotland and Britain in the University International Student riding teams – and took my exams to BHSII.  I then enjoyed 15 years in the 80s and 90s of accountancy training, young entrepreneur management consulting work, and major construction project advisory work, with a large accounting and management consulting firm – as well as continuing to compete and freelance coach.  I passed my BHSI in 1996, and have been solely (part-time) freelance coaching ever since.  I'm married to another management consultant – and we seem to have also brought up our daughter in the ways of combining academic life and horses!  
I'm passionate about what the F&I Association brings to the industry – we are not only a support network for individuals post-BHSI, we are also a vital force in the senior echelons of the coaching industry, and we have the potential to grow our influence even further.  This is my second stint on the committee helping F&I, and once again I'm excited to contribute in whatever way I can.
---
Jeremy Michaels, FBHS, M.Ed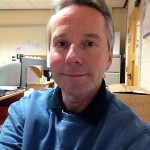 Currently, I work at Hartpury College as a part-time lecturer in Higher Education, plus I freelance teach locally and within the UK as well as overseas and I am a BHS Chief Assessor. Previously, for a total of sixteen years I worked at Hartpury College and was employed as Head of Equine Director/Head of Equine Section/Academic Manager/Chief instructor/Yard Manager/International Director (not all at the same time!).
I worked as Chief Instructor for ten years at Wellington Riding, Hants. For three years I was Head of Training, Education and Development and Deputy CEO at the BHS. I have also worked for the British Army, managing the Saddle Club in West Berlin, Germany for two years (many moons ago!).
The majority of my equitation and coaching training was at the Talland School of Equitation (where I also worked for several years running student career courses), by Molly Sivewright to whom I owe much of my knowledge and love of the horse.
I have competed in the disciplines of dressage up to PSG, eventing up to Intermediate and show jumping up to Foxhunter. I have presented many coaching and examination videos and written numerous articles for the equestrian press. I am also an expert witness.
---
Danny Anholt FBHS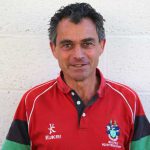 I have been the Director of Equestrian Sports at Millfield School since 2000, managing two centres with almost 100 horses in total and 25 full time staff.
I am a BE Accredited Trainer and BHS Chief Assessor. I originally trained at Porlock Vale Equestrian Centre after which I ran my own business, training event horses and riders. I then spent some years running the Beas River stables in Hong Kong, before returning to the UK.
I have been a supporter of the F&I Association for many years and was delighted to be asked to join the committee.
---
Sam York BSc (Hons), FBHS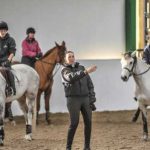 A BHSI, UKCC Level 3, British Eventing Accredited Coach and under 18 BE coach.  I am also the Education and Training Coordinator for Nottinghamshire and a Senior Lecturer at Nottingham Trent University, where I specialise in sport horse production, equitation and coaching.
I have been involved with selecting, breeding and producing many top young horses with BEF breed status and awards and have produced and ridden horses up to Advanced, three-star level eventing and am still currently looking for the all elusive four-star ride.  I have trained to PSG level dressage, competed up to medium level dressage an qualified for the BD National Championships.
I spent a long period of my early years riding a string of horses for owners and dealers, producing horses for sale for the show jumping circuit, competing up to foxhunter and small opens classes in British show jumping.
I represented GB at the British Riding Club European Championships and have ridden on many National equestrian teams throughout my professional equestrian career and have qualified horses on the equine pathway programme.
I am currently studying for a Master's degree in professional sports coaching and UKCC level 4 as well as working towards being a listed dressage judge.  www.samyork.co.uk
---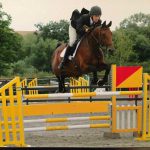 David Sheerin

Entering The British Horse Society exam structure 20 years ago little did I understand what amazing opportunities an equestrian career would offer. Gaining my BHSI 10 years ago I have very much enjoyed being part of the F&I association. Also a BE accredited Coach, BHS Assessor,  Pony Club Chief Instructor, UKCC Level 3 and more recently I am proud to have been voted as the Chairman of The British Horse Society. This role I am extremely passionate about, not only with the much needed developments within education but also the valuable work that the society does with its many volunteers.
I am currently the General Manager at Wellington Riding in Hampshire. A busy equestrian centre that has a full calendar of competitions, produces over 25 professional students each year, riding school lessons, many liveries and runs exams  from stage 1 through to the BHSI exam.
In my spare time I love producing young horses and Eventing. I am fortunate enough to have some quality young horses and the F&I Association allows a great opportunity to train with my horses.
---
Area Representatives:
Faith Ponsonby (Ireland Representative)
Jillie approached me in 2013 to act as the Irish Rep and of course I said yes!
My qualifications include BHSI  and BETRL. I am Senior BHS Assessor for Stage 3 and PTT having assessed for over 20 years. Also  UKCC verifier for PTT.
I am FEI International 4 star judge and  list 3 dressage judge. I am on SG GB Judges' Panel . Have judged at RIHS.  On Irish Hunter and Irish Pony Society Judges' Panels. On Irish Pony Club Training Committee and A test Assessor. Holder of PC A Test as is one of my daughters.
I am Horse Sport Ireland Tutor .
I lecture at Kildalton College Fetac Level 5 and 6 Equine Courses.
I compete in Dressage and Show Jumping on my home produced mare. I hunt with Waterford Foxhounds regularly. I competed eventing ( rode at Punchestown) showjumping, dressage,  showing ( produced a champion small hunter RDS), sidesaddle and rode internationally student rider teams.
I train Pony Club  and competition riders for all disciplines.
E mail : kilcooly@indigo.ie
I have organised visits to Coolmore stud and to Fethard Veterinary Hospital.  We have had two visits to RDS Horse Show with  F and I guests over from UK . There have been course walks at Tattersalls international horse trials and Ballindenisk international horse trials
In 2015 I plan visits to Punchestown Racing Festival , the Irish National Stud and course walk at Millstreet, venue of FEI Pony European Championships 2014, as well as the RDS. So you can see we are very active here with our select group of 8 active BHSI s!
---
Sue Ricketts BA (Hons) BHSI (Northern Representative)
As the Northern F&I representative, my aim is to engage people in getting more involved with the Association. We plan to organize more training sessions for members in our area and to increase the number of members we have. The association is a great way for our members, who are all experienced and highly qualified people, to train and discuss new ideas and training methods.
My experience in the equestrian industry comes from coaching all abilities and competing, from an early age, in the disciplines of Showjumping, Eventing and Dressage. I have worked full time in the industry as a rider and coach for 27 years. I have been involved in training and assessing students for equestrian qualifications in formal and industry based settings, including riding schools, colleges and training centres.
I am currently a BHS Chief Assessor for stage 4 and IT and a British Dressage list 3 judge.
Please contact me if you have ideas for training days in our area: 07775733518
---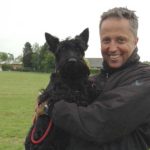 Erik Mackechnie
Qualified BHSI 1998.
Works Part Time Gleneagles Equestrian School -senior Coach.
Works with World Class Podium Potential Para Dressage Squad.
Dressage coach to The HorseScotland Development and Performance riders Event, SJ, Dressage, Para Dressage.
Own client base covering Scotland and areas of the U.K.
Have organised a variety of different days, talks over the last 2 years, 2017 looking to organise a young horses evaluation day to get the year started!