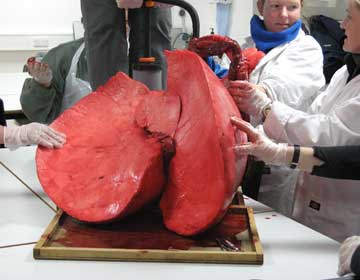 Well can I start by saying on behalf of everyone who attended WHAT A FANTASTIC DAY! It was great to see some new faces and also some new BHSI's who had travelled a long way (across the water) to be with us.
The day started promptly even though the weather was not in favour of anyone who had a long journey to Hartpury. The turnout was excellent so we split into 2 groups for the first sessions. I joined a group with Tim Galer in the Treatment room where we talked about Strangles and observed him scoping a horse with a history of respiratory problems. It was interesting to hear that the Strangles vaccine is not as good as had been hoped; it was found that injections needed to be redone frequently if in a high risk area. However, the Animal Health Trust is working on a blood test for this highly contagious disease. Tim talked about how he would or wouldn't treat diagnosed animals and the reasons behind this. The scoping was fascinating with the images clearly shown to everyone. There were questions from all of us throughout this session.
We then joined Kathryn Lankervis, to watch her put a horse through its paces on a treadmill. There was an ECG readout on the computer whilst another piece of equipment showed the speed and tilt of the treadmill. At 4.4 metres per second the horse was traveling as fast as Paula Radcliffe in a marathon, its fastest was 6 metres per second. The treadmill is great for repeated work as every variable can be kept the same as the last time it was used. Towards the end of this session a discussion took place within our group on Lactic Acid and on the use of Nasal Strips.
Read more F & I Seminar – Hartpury Equine Veterinary and Therapy Centre ›